Web Cams
Photos are a great way to see what a place looks like. Video are even better because you see the scene up close as it changes from time to time.
Crystal Mountain Resort Chair 6 Top
Crystal Mountain Chair 6 Webcam
Camera ID: 0123
Altitude: 6080 ft
Latitude: 46.928400
Longitude: -121.504578
Description: A look at the snow or weather at Chair Six Ski lift at Crystal Mountain Resort, Washington State.
Source: CrystalMountainResort.com
Crystal Mountain Ski Resort Base Cam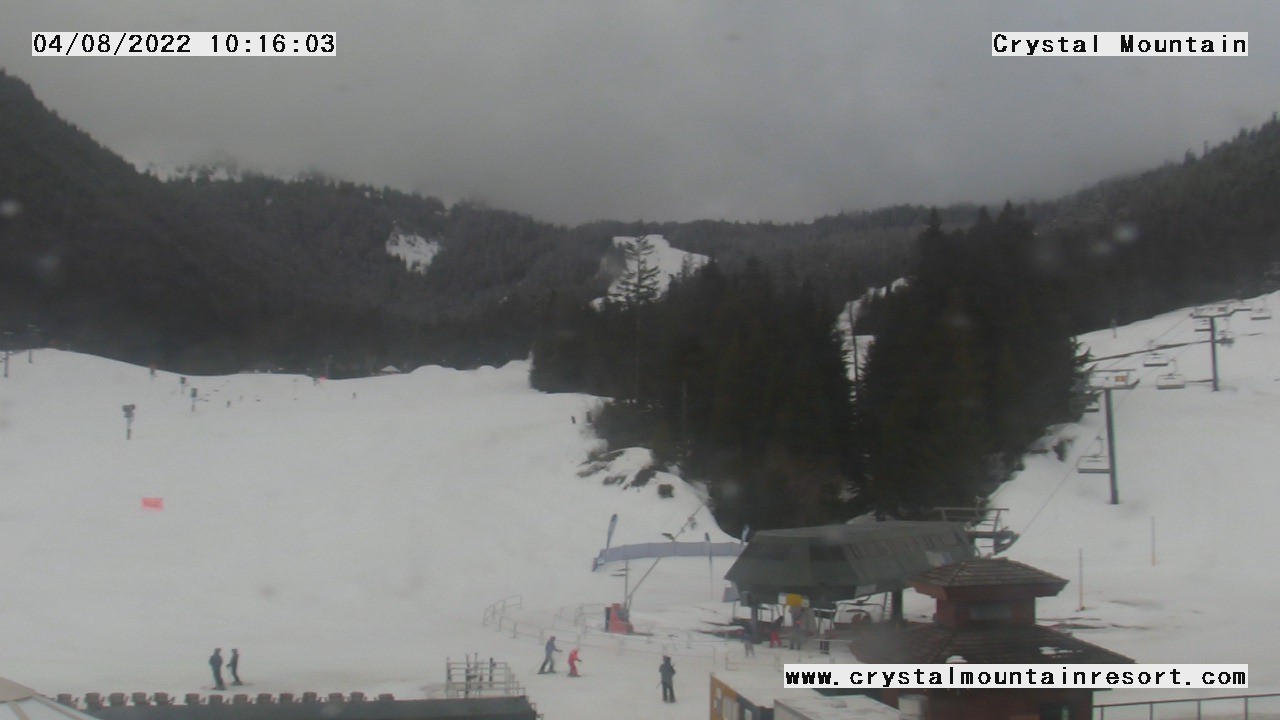 Crystal Mountain Base View Webcam
Crystal Mountain Ski Resort Rainier Cam
Crystal Mountain Ski Resort Summit Haus
Westport Grays Harbor Entrance (Bar)
Westport Grays Harbor Entrance (Bar)
Camera ID: 1084
Description: Climb up the stairs to get a birds eye view of Grays Harbor and the Pacific Ocean. You might see whales?
Source: WestportCam.com
Canterbury Inn Beach Cam
Canterbury Inn Ocean Shores
Crystal Mountain Resort Gold Hills
Top of Gondola Gold Hill Chair at 5,044 FT.
Green Lake Boat House
Green Lake Washington
Mount Rainier National Park Air Quality Webcam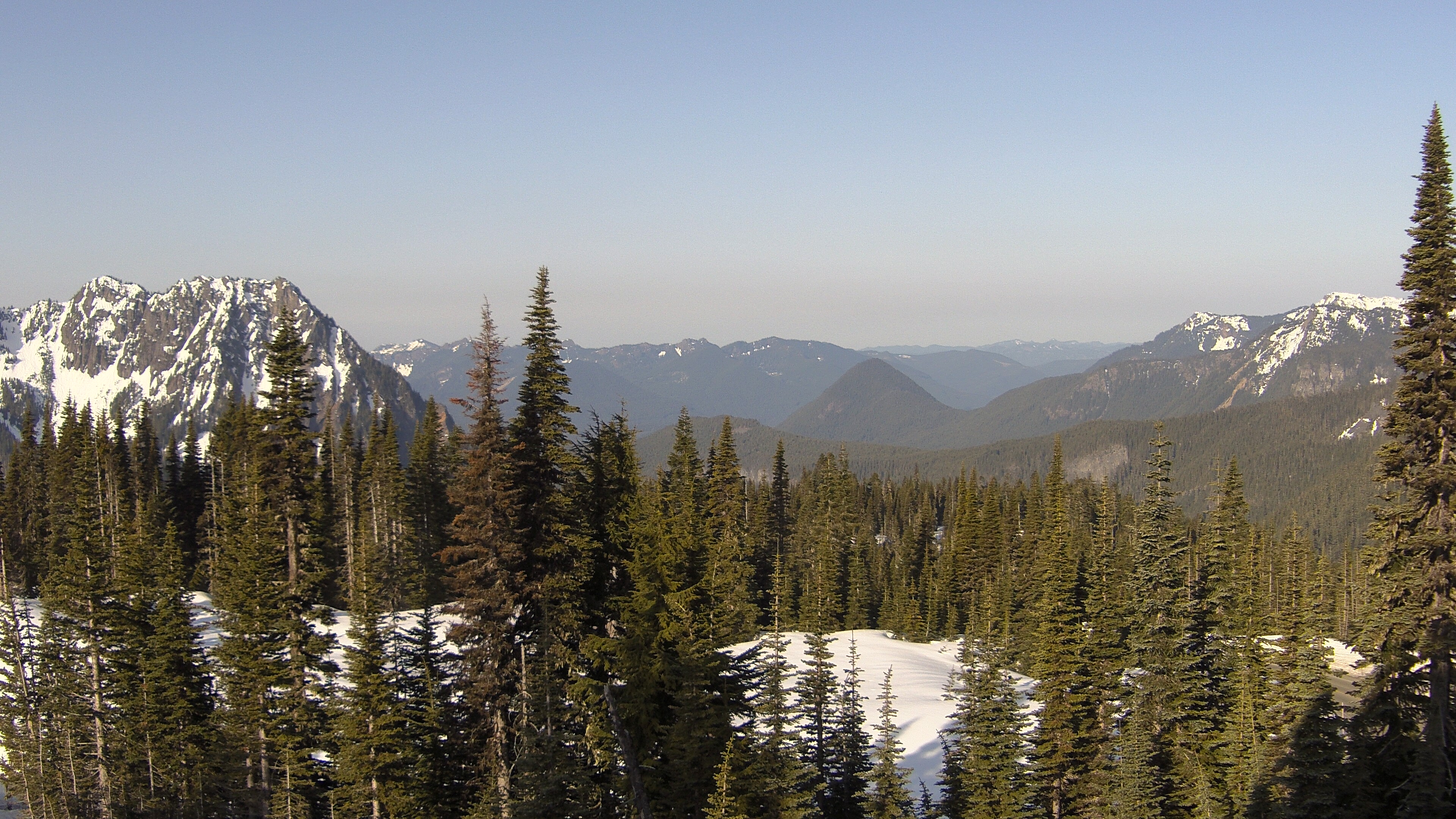 Camera ID: 0058
Description: Located 5 miles south of the summit at Paradise, looking west down the Nisqually River valley.
Source: Nature.NPS.Gov/WebCams/MoraCam
Seattle Queen Anne Roofcam NW
King5 TV View From Queen Anne of the Space Needle
Camera ID: 0027
Description: From the top of downtown Seattle's Queen Anne hill you can see the iconic Space Needle and Elliott Bay beyond.
Source: King5.com
Cameras elswhere in Washington State
Hi-Tide Resort Moclips, WA
Expansive view of Moclips Beach & Point Grenville
Camera ID: 1273
Description: You can not see China from here, but it is due west thousands of miles away. And you can see the glory of the Pacific Ocean year round. Right out front is Moonstone Beach, to the right is the Moclips river and due North gander at magnificent Point Grenville. Hi Tide Resort is a 33 Unit condo complex right out on the beach, a one of a kind location. Escape to the quiet, peaceful world in your own private paradise.
Source: Hi-Tide_Resort.com
La Push and First Beach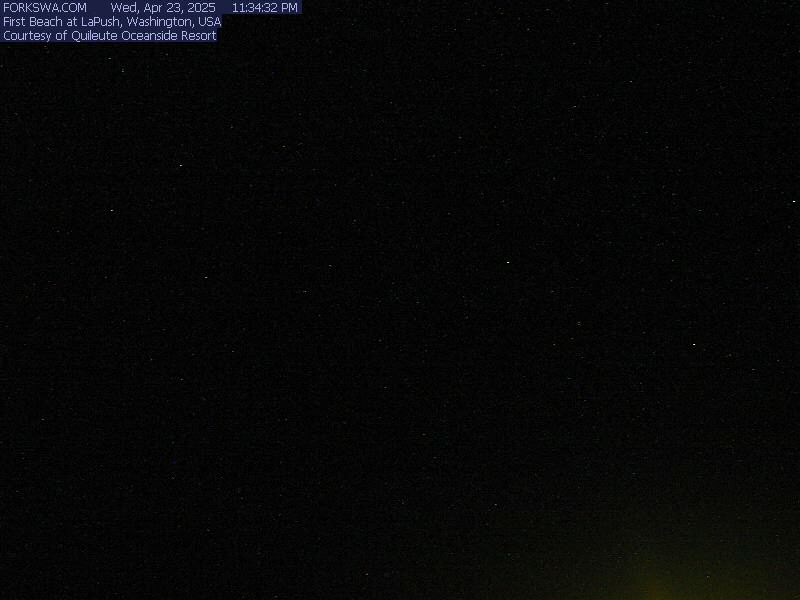 Camera ID: 0066
Description: La Push, Washington is a popular place for fishing, whale watching, beach walking, and surfing. It is home to the Quileute Indian Tribe and part of Clallam County.
Source: QuileuteOceanside.com
Mount Rainier National Park Longmire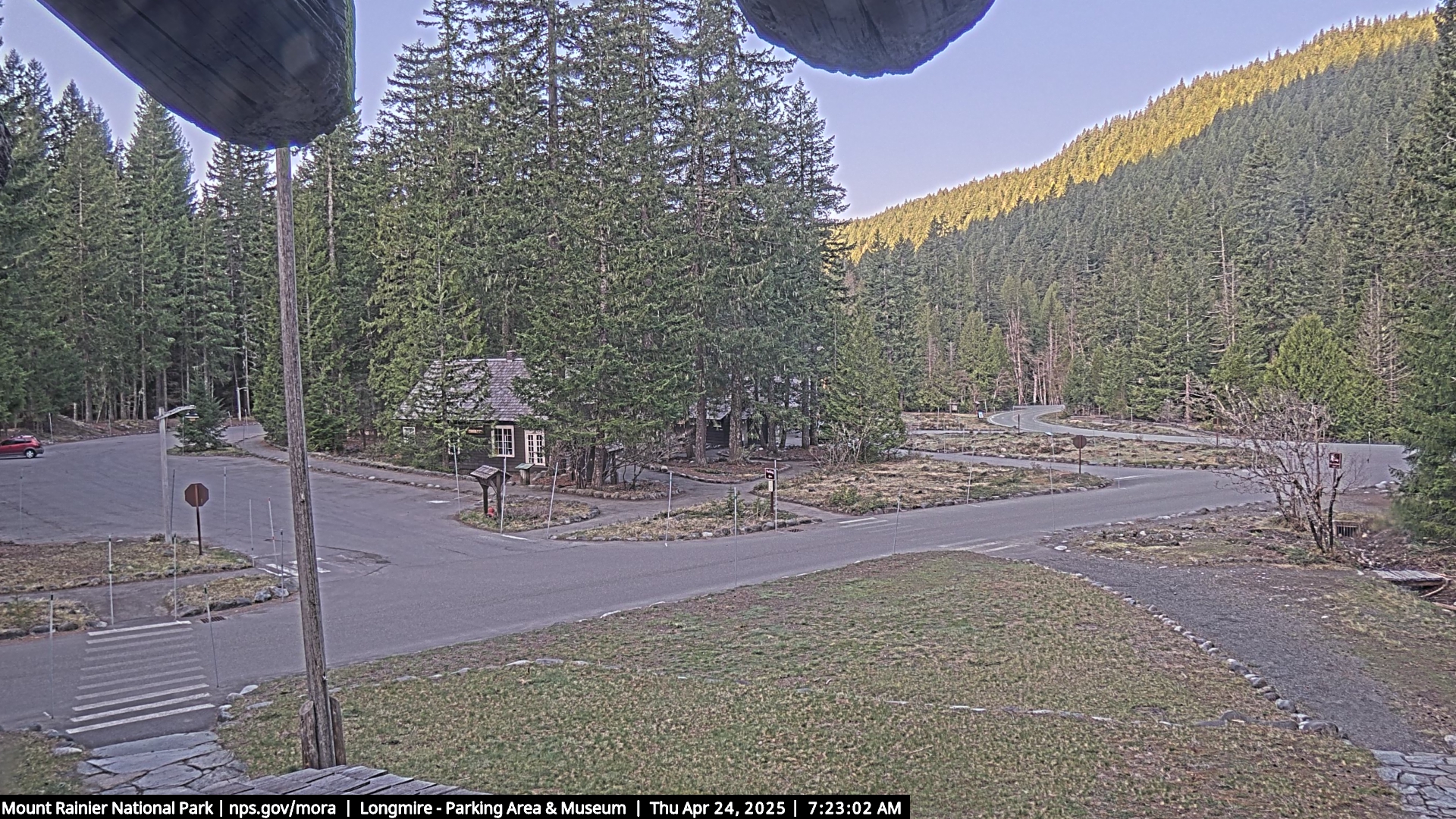 Mount Rainier Longmire
Olympic National Park Hurricane Ridge
Camera ID: 0072
Latitude: 47.933260
Longitude: -123.409627
Description: Hurricane Ridge, found a short drive from Port Angeles into the Olympic National Park, is almost 5,200 feet high. In the summer it is popular for hiking and sight-seeing. In the winter visitors can ski, snowboard, snowshoe, and sled.
Source: NPS.gov
Sequim Washington Camera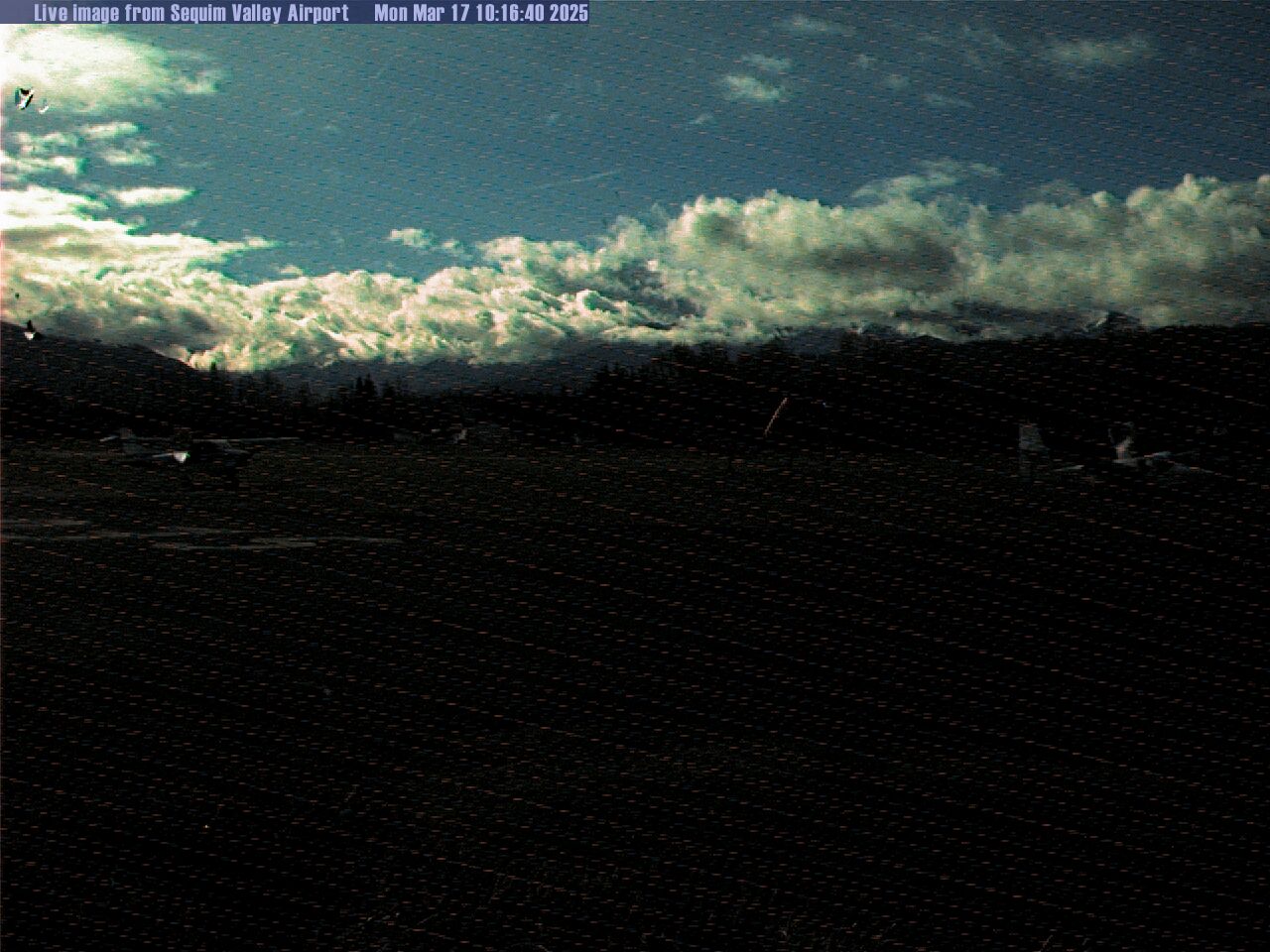 These cameras are outside of the area, but may be of interest.
Dungeness Lighthouse South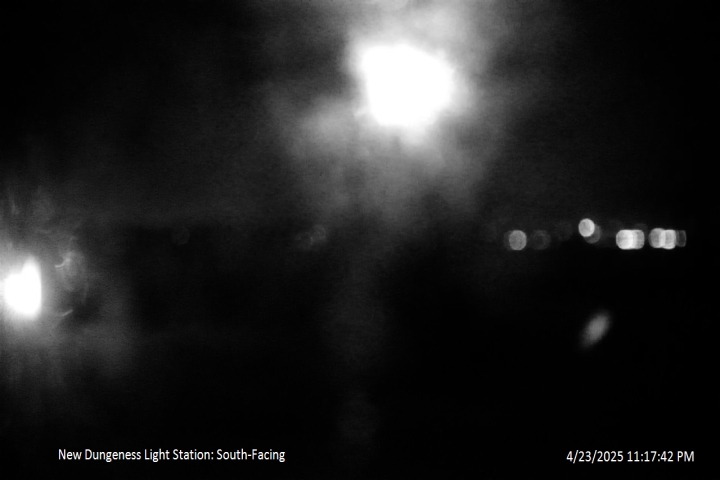 Dungeness Lightstation South View Cam
Camera ID: 0073
Description: The New Dungeness Lighthouse can be found at the end of the Dungeness Spit, the longest natural spit in the United States. At 5.5 miles out on the spit, the lighthouse is a nice day hike for visitors.
Source: NewDungenessLighthouse.com
Windy.com Washington State
Windy.com Washington State
Camera ID: 1430
Latitude: 37.45343
Longitude: -120.07499
Description: I am an addicted kiter, helicopter, and jet pilot who seeks the wind, waves, METARs, and powder snow almost constantly. Since programming is my passion, I coded Windyty.com in 2014 as my pet project.

The original version was highly inspired by the products from the Swiss company Meteoblue and another project called "Earth", which displayed animated wind particles on the globe.

I have completely rewritten the open source codes of Earth and also made an agreement with Meteoblue to use some of their products at that time. And thus Windyty was born (renamed Windy a few years later).

My goal is to keep Windy small and fast to be accessible in the most remote locations.
Source: Windy.com
Day view
Night view
Day/night view
Live view